Orange blue with simple year-end work summary PPT template, simple PPT template download
File Size: 755.05KB
Download times: 805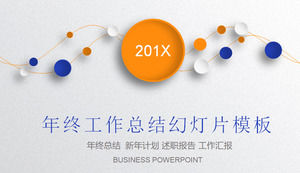 This is a set of orange and blue with a simple year-end work summary PPT template, a total of 22 sheets.
The slide template cover uses blue and orange to match the micro-stereo style circle as an embellishment. Two wavy lines connect the circles together. In the middle of the big circle, fill in the work summary report year, fill in the work summary title and reporters and other information below.
The PPT template content page, also using blue and orange, was designed with 19 flat slide charts.