Green Abstract Curves PowerPoint Template
File Size: 321.31KB
Download times: 3111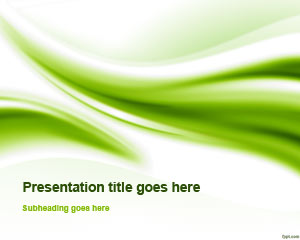 Free green abstract curves PowerPoint template gives an environmentally friendly tone to your presentations. It has an abstract background which makes your idea quite diverse and original. Free PowerPoint slides catering to different facets of thought can be found on FPPT. Download presentations relevant to your style of thinking through free nice green curves PPT theme, and abstract curves PPT slides.
The style and theme of a presentation affects its impression on the audience, and similar is the case with green abstract curves PPT theme. It provides a unique flow and direction to the slides, which engages the audience. When presenting your ideas, make sure that your style is not a generic one with plain background, but one with an authentic abstract background that makes a mark on everyone.
Green is a color that symbolizes nature and purity. A touch of green gives a soothing look to almost everyone, and helps relieve the mind off stress. The bright color is a symbol of inspiration, and helps the green abstract curves PPT become an instant success story.
Free green abstract curves PowerPoint template is available for download on the latest and previous releases of OpenOffice Impress and Microsoft PowerPoint.