Let your site fly up, 2011 webmaster assembly PPT download
File Size: 2.58MB
Download times: 696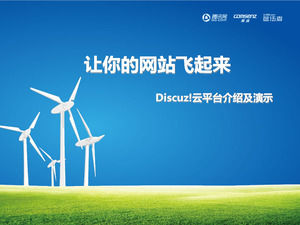 This is the 2011 webmaster conference, Kangsheng company discuz product introduction PPT, and discuz cloud platform introduction, slide theme "let your site fly up"
What is Discuz!
On the basis of Discuz! X, the Hong Sing team relies on Tencent's powerful user resources and cloud computing capabilities to build a network based on QQ Internet, QQ space, Tencent microblogging, site search, e-commerce, community QQ group, advertising Coalition and so on many dimensions of open community products.
The future of the cloud platform
Open platform is the core strategy of Tencent Group, Discuz! Cloud platform is the team and Tencent instant messaging, QQ space, Tencent microblogging, Tencent data platform, SOSO, security center, QQ mailbox and other brothers team work together results. Innovation is endless! More exciting service will be on Discuz! Cloud platform on the line.