Cute cartoon children education PPT template
File Size: 2.05MB
Download times: 13348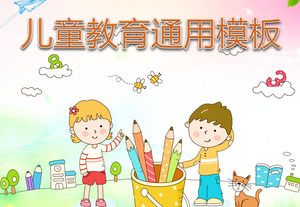 This is a set of cute cartoon style, children's education PPT template, a total of 27.
The slide template uses a colorful hand-painted grass as the background image. Several children are painting, reading, and playing games with a brush. The whole template is full of childishness and very cute.
PowerPoint template content page, using a variety of cute children's illustrations for typesetting. The illustrations and slide charts are very well integrated with the PPT template style.