"Can not forget the historical memory" Japanese invasion of China record PPT download
File Size: 6.93MB
Download times: 1566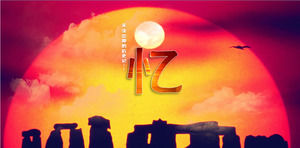 "Can not forget the historical memory", drawn from the history of Japanese invasion of China, warning people do not forget history. To Japan's bombing of Chongqing, led to the Japanese history of China's invasion of China, enumerated in Japan, committed all kinds of atrocities, warning people remember this history, is the logical line. But the relevant pictures, too much information in the search, selection, cutting spent a lot of time, mainly to consider the most appealing pictures, but also not too bloody, even if there are related to deal with, and finally, through the animation Design, will be scattered historical pictures into a theme, accompanied by audio and brief text, the formation of this memory.
In the production did not spend too much time in the graphic design, personally think that the picture is the most simple, objective facts reflect, more consideration is how to focus on the subject, the photo shows the historical facts presented to everyone, tend to similar to the film Effect design animation, the effect of how, please comment
The choice of sound is one of the key to the production, the feeling can still bring out the heavy sense of history, please everyone in the appreciation, open the sound, perhaps a better experience.