Belt and Road New Silk Road PPT Download
File Size: 2.78MB
Download times: 1892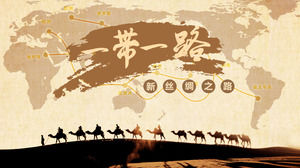 On the 14th, President Xi Jinping attended the opening ceremony of the "One Belt, One Road" International Cooperation Summit Forum and delivered a keynote speech entitled "Working Together to Promote the Construction of the Belt and Road", emphasizing adherence to peaceful cooperation, openness, tolerance, mutual learning and mutual benefit. Winning the core spirit of the Silk Road, work together to promote the construction of the "Belt and Road" and make the "Belt and Road" a peaceful, prosperous, open, innovative and civilized road to a better tomorrow. Vice Premier Zhang Gaoli of the State Council presided over the opening ceremony.
The Belt and Road PPT mainly introduces several aspects:
01 What is the "Belt and Road"?
02 The Valuable Heritage of Human Civilization - Silk Road Spirit
03 "One Belt, One Road" has achieved fruitful results
04 Promote the construction of "One Belt, One Road"
05 "One Belt, One Road" to develop new opportunities
06 "Belt and Road" construction is a great cause
... ... ...
Keywords: One Belt One Road PPT Appreciation, New Silk Road PPT Download, Camel, Camel Team Slide Background Picture