"I'm really great" Picture book story PPT
File Size: 874.69KB
Download times: 214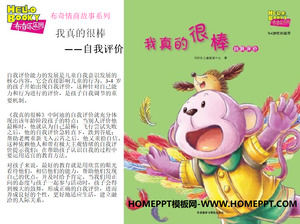 "I'm really great" Picture book story PPT
Adi can draw, and guess a lot of riddles.
Everybody says Adi is the best, Adid is of course the idea.
"Who else is better than me?"
Adi proudly told Momo, "I can do anything!"
"Can you fly like a bird?"
Momo asked, "or like a white cloud floating in the sky, okay!"
"It's hard for me."
Adi finished to open his hands,
Beat up and down.
But no matter how hard he is,
Still did not fly at all.
"It's ok,"
Adi thought, "I'm the best, sure to fly."
So he thought hard way.
"With a feather to do a pair of wings,
I can fly up. "
Great! Adi said dry,
He began to pick up feathers everywhere.
Sometimes also want to quietly pull a few!